Blockchain developers enjoy extremely lucrative careers in a variety of industries and roles, from cryptocurrency and supply chain networks to health care and medical records. Blockchain development requires a broad skill set, including a strong knowledge of fundamental programming languages such as C++, Python, and Java, as well as languages commonly used for blockchain engineering.
<!- mfunc feat_school ->
Featured Programs:
Sponsored School(s)
Sponsored School(s)
All school search, finder, or match results, as well as colleges and universities displayed as "Featured School(s)" or "Sponsored Content" are advertisers that compensate us for placement on this site. The resources, editorial content, and school evaluations published on this site are developed independent of the schools that advertise here.
<!- /mfunc feat_school ->
As it is a relatively new technology, data is still being collected on blockchain jobs salaries, and specific blockchain developer courses are not as ubiquitous as computer science, information security, business analytics, or other related courses. That being said, most employers require at least a bachelor's degree in a related field, and a master's degree will give you a leg up on the fierce competition for this high-demand job.
What Is Blockchain?
In simple terms, blockchain, also referred to as distributed ledger technology (DLT), is a digital ledger system that allows members of a network to access information stored across a variety of networks. The decentralized tracking and storing of data are possible with blockchain technology's method of linking immutable — or unchangeable — blocks of information using cryptography.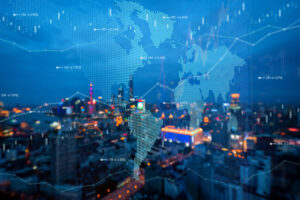 Decentralization makes blockchain impervious to cyberattacks, which have become a significant threat to public and private institutions in recent years. And because the data in a block can't be changed without affecting each subsequent block, the integrity of the data is never compromised.
Blockchain is becoming increasingly attractive to industries around the world as the technology offers global enterprises greater trust and efficiency than the conventional centralized models they've relied on for decades.
Researchers at PwC have found that, in our post-COVID-19 world, 61 percent of CEOs internationally are "placing the digital transformation of core business operations and processes among their top three priorities."
The more businesses that adopt blockchain technology for purposes that range from saving time and money to deterring fraud and settling disputes, the more job opportunities there will be for blockchain developers here in the United States and abroad.
Job Outlook for Blockchain Developers
In her June 2022 newsletter, On Tech With Shira Ovide, The New York Times tech writer confidently announced, "The job market at technology companies, and for people with high-tech skills, is on fire and staying that way — at least for now."
Pointing to the consistently high demand for tech workers and the rebound effect of hiring freezes early in the COVID-19 pandemic, Ovide noted that "tech pay has soared in the past couple of years."
In September 2021, the U.S. Bureau of Labor Statistics' 2020–2030 employment projections attributed the expected growth rate of computer and mathematical occupations to the high demand for new products to support the Internet of Things.
The advent of Web3 and the interest in cryptocurrencies and other decentralized technologies have created a wave of opportunities for blockchain engineers across a broad spectrum of industries.
The BLS is currently collecting data on wages and employment trends for blockchain developers and lists the profession under "Computer Occupations, All Other."
In 2021, workers in this category — including blockchain developers and engineers — earned a median annual salary of $95,270 and accounted for 442,200 employees in the United States in 2020. The average projected growth from 2020 to 2030 is 5 percent to 10 percent, with an estimated 37,500 job openings for blockchain developers and related roles.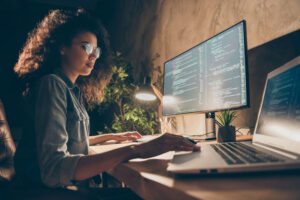 The top industry for blockchain developers in 2020 was professional, scientific, and technical services, which accounted for 27 percent of employees, followed by government, which employed 22 percent of the country's blockchain engineers.
According to PwC's Time for Trust report, which was released in October 2020, "[b]lock chain technology has the potential to boost global gross domestic product (GDP) by US$1.76 trillion over the next decade."
Economists at the professional services network have identified the top five uses for blockchain technology in terms of their global economic value.
Top 5 Uses for Blockchain Technology
Origin and tracking of goods
Payments and financial instruments
Identity
Contracts and dispute resolution
Customer engagement
Blockchain developers will play an integral role in creating and maintaining the technology and applications needed to enable the infrastructures for these global business concerns.
Best Locations for Blockchain Developers
The PwC report also notes that the United States and China are likely to be the countries that benefit most from blockchain between now and 2030.
Blockchain Opportunities by Country
United States
China
Sweden
Luxembourg
Germany
The UK
The authors of the report attribute the boost to these countries' GDPs to factors such as a favorable industry mix, existing technologies, and workforces that are equipped to optimize blockchain technology.
According to MyNextMove.org, the states with the highest number of job opportunities for blockchain engineers are:
California
District of Columbia
Maryland
Nebraska
Tennessee
Utah
Virginia
Washington
U.S. Salary Data
ZipRecruiter's 2022 data reveal that the average salary nationwide for blockchain developers is $149,999 per year. The popular career website suggests that there is significant career growth opportunities and salary increases for blockchain developers depending on their skill set, location, and years of experience in the field.
According to ZipRecruiter, the following cities offer higher than average salaries for blockchain developers.
Top Ten Cities for Salaries Above the National Average
Atkinson, Nebraska – $193,530
Frankston, Texas – $187,412
Barnstable Town, Massachusetts – $182,303
Inverness, California – $180,561
Dimondale, Michigan – $175,456
Manhattan, New York – $174,266
Hooper Bay, Alaska – $173,175
Skyline-Ganipa, New Mexico – $169,681
Potomac Heights, Maryland – $169,402
Cambridge, Massachusetts – $169,188
Source: ZipRecruiter
According to Hired.com, candidates who have built applications and prototypes using blockchain technology have a better chance of standing out in this fiercely competitive job market. Your Github profile's popular repositories and contributions is a great place to showcase your unique skills and talents.
Salaries by Region
Seattle – $174,228
SF Bay Area – $171,615
New York – $168,050
Los Angeles – $163,346
Austin – $163,081
San Diego – $155,000
Boston – $151,554
Chicago – $149,218
Dallas/Ft Worth – $148,706
Washington D.C. – $147,704
Atlanta – $147,333
Toronto – C$139,691
Philadelphia – $138,476
Denver – $131,400
Minneapolis/St Paul – $107,500
Dublin – €98,142
London – £83,737
France – €72,000
Source: Hired.com
How to Become a Blockchain Developer
To break into the world of blockchain technology, you'll need to know more than what blockchain is and how it works. Building a rewarding career as a blockchain developer requires highly technical skills, a willingness to start in an entry-level blockchain job, and strong desire to expand your blockchain developer skills.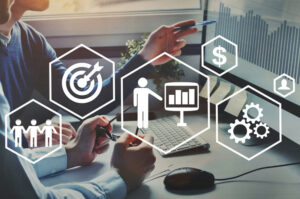 It's important to note that blockchain is not synonymous with Bitcoin. Blockchain is the underlying technology for Bitcoin, but its uses go way beyond cryptocurrencies and the financial industry.
Industries of all types, including manufacturing, public service, retail, and health care, will use blockchain in some capacity to validate, document, and secure transactions. For this reason, a degree in business analytics can open doors to blockchain developer jobs in several industries.
A bachelor's or master's degree in a related discipline, particularly a discipline with a heavy focus on business operations and solutions will allow you to build a solid foundation for the complexities of scaling tech solutions to broad business problems.
Because the tamper-proof, information-securing characteristics of blockchain are at the core of its protocol, many of the skills needed for a career in cybersecurity are applicable to blockchain engineering.
Many business analytics master's degree programs offer concentrations or electives in cybersecurity and cybercrime, including:
Oklahoma State University's Spears School of Business
Boston University Metropolitan College
Most programs offer online and on-campus courses. One of the most appealing aspects of establishing a career as a blockchain developer is the versatility of the role. Once you've identified your area of interest, you can begin to chart your course to a rewarding tech career.
Blockchain Developer Job Requirements
Unlike job opportunities for software developers which often require experience in either frontend or backend developing, blockchain developer positions require that potential hires have backend software engineering experience.
Blockchain developers should have experience with the following programming languages:
SQL
Solidity
Java
Python
Vyper
Golang
C++
C#
Ruby
Simplicity
Rholang
PHP
Hiring managers and recruiters also look for blockchain developer candidates with a knowledge of chain code, Geth, NoSQL, Corda, Bluemix, AWS, Azure, Stellar, web3.js, and decentralized apps (dApps).
Blockchain developers should also be familiar with a variety of platforms. TechTarget named the following as the "Top 9 blockchain platforms to consider in 2022."
Ethereum
IBM Blockchain
Hyperledger Fabric
Hyperledger Sawtooth
R3 Corda
Tezos
EOISO
Stellar
ConsenSys Quorum
With each additional skill you acquire, you make yourself more appealing to employers and improve your chances of advancing your career.
Primary Blockchain Developer Responsibilities
The Occupational Information Network offers a list of technical tasks a blockchain developer might undertake during a typical workday. These are only a sample of common responsibilities, as the job skills and responsibilities may vary according to the industry, blockchain use, and other factors unique to the position.
Daily Tasks
Assess blockchain threats, such as untested code and unprotected keys
Automate the deployment of software updates over geographically distributed network nodes
Design and deploy blockchain design patterns to make transactions secure, transparent, and immutable
Design and develop blockchain technologies for industries such as finance and music
Design and implement dashboard and data visualizations to meet customer reporting needs
Design and implement data repositories to integrate data
Design and verify cryptographic protocols to protect private information
Determine specifications for, or implement, logging
Develop a maintainable code base using object-oriented design principles, practices, or patterns
Discuss and plan systems with solution architects, system engineers, or cybersecurity experts to meet customer requirements
Discuss data needs with engineers, product managers, or data scientists to identify blockchain requirements
Evaluate blockchain processes or risks based on security assessments or control matrix reviews
Evaluate new blockchain technologies and vendor products
Implement catastrophic failure handlers to identify security breaches and prevent serious damage
Run infrastructure tests to examine the behavior of large peer-to-peer networks
Test the security and performance of blockchain infrastructures
Update client and server applications responsible for integration and business logic
Source: Occupational Information Network (O*NET)
In addition to these duties, blockchain developers will spend much of their time designing software applications and integrated computer networks, implementing and testing information systems and computer system operations, writing code, analyzing data, and creating databases.
It's easy to overlook the necessary soft skills needed for such a highly technical job, but companies and recruiters are looking for candidates who have solid problem-solving skills, and the ability to collaborate and communicate effectively with a team.
Even people who hold remote blockchain jobs must possess these essential soft skills, as the most effective blockchain technology infrastructure requires multidisciplinary and cross-functional collaboration.
Become a Blockchain Developer
Education and training, along with experience and a growth mindset, are the key to unlocking a fulfilling and successful career as a blockchain developer. Regardless of where your interests lie and the place you call home, you're certain to find opportunities for blockchain developer jobs that align with your life and career goals.
Take the first step toward your dream job by enrolling in a program today.